An introduction to e-learning platform development
Living in 2023, the topic of online education is more relevant than ever. The world is recovering after a devastating COVID-19 pandemic, and we all saw that multiple industries can be paralyzed by the lockdown, including such important ones as healthcare and education.
Luckily, humanity already has the necessary technology for effective remote processes and services and could provide them to the industries where it is feasible. Today we will focus on e-learning platform development, a crucial element of education.

According to Statista, this year the global e-learning market will surpass 243 billion U.S. dollars. This growth is unprecedented because this industry expanded by a mind-blowing 900% since 2000. The popularity of this industry is only getting bigger, as Tech Jury forecasts the growth of the industry even further, up to $325 Billion in 2025!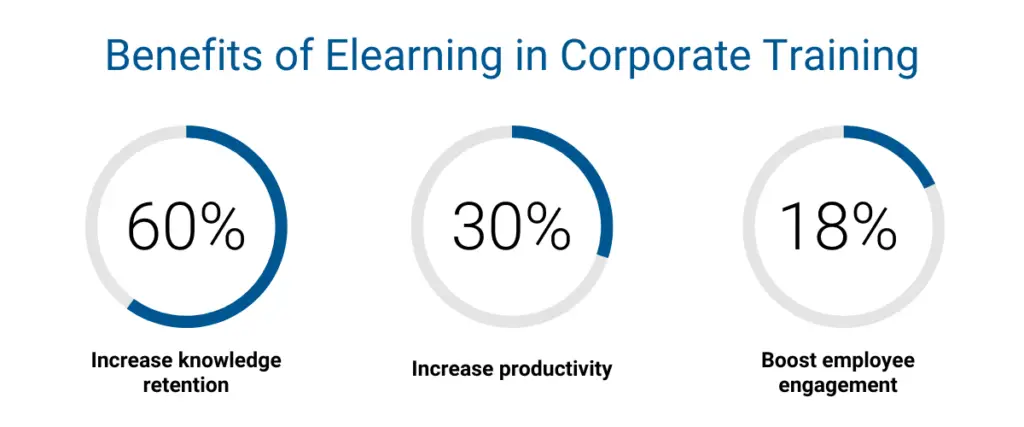 So what makes online education so impactful for students, employees, businesses, and enterprises? What makes e-learning platform design stand out? How can you create an online learning platform that will surpass existing solutions on the market? We will provide you with answers to these questions and more!
"When I wanted to learn something outside of school as a kid, cracking open my World Book encyclopedia was the best I could do. Today, all you have to do is go online."
— Bill Gates, an American business magnate, software developer, investor, author, and philanthropist
Top 5 benefits of the virtual learning platform
Why is the desire to create an online learning platform so popular today? Because online education has several significant advantages over the traditional learning process that should be discussed in detail.
24/7 Availability
Thanks to the power of the Internet, the user can join any online course from any modern device and be able to learn from any location on the planet.
Cost-effectiveness
From the tutor's and educational organization's perspective, online education doesn't require overhead costs such as paying rent for buildings, most of the bureaucratic hassle, or managing and teaching your personnel. Yes, you need to find a way to build an online learning platform, but after that, the costs of managing and evolving it are far less, compared to opening an actual university, for example.
Flexibility for students
For students there are many benefits to online learning. Virtual learning platforms allow organizations to create unique and personalized learning experiences, tailor-made for a specific audience, with a particular specialization and background. In combination with the absence of a rigid schedule, students can make the most out of the educational process at their own pace.
Maximum reach
Considering that half of the population of our planet has an internet connection, your organization will no longer be bound by any geographical limitations. Students that are interested in your knowledge will be free to join in.
Easy start
You don't need to have any previous experience to enter this market. The key here is the value of content and educational services you are willing to provide. With the help of an experienced custom e-learning software development partner, you can start your project in no time and deliver a groundbreaking solution.
Virtual learning platform development: 6 types of platforms you can create
Are you ready to build an e-learning website? Great! Let's take a closer look at the options you have in this endeavor:
1. Massive open online courses
Think of these as analog to marketplace platforms. Any tutor or organization can sell training courses to any students that have a desire to buy them. Take projects like Coursera or Udemy as an example. Additionally, there are plenty of industry-specific massive open online courses focused on narrow topics, writing music, for example.
2. Traditional learning management platforms
These systems offer users functionality to create and store virtual courses of their own, including such features as creating profiles, progress reports, and achievements. This is often used for corporate training by large organizations.
3. Open-source learning management platforms
Basically, the same as the previous type, but these also allow anyone to build an online learning platform based on existing ones or edit and adapt existing courses. You can look up solutions like Sakai, Moodle, or Claroline as examples.
4. Modern learning management solutions
This type aims to create the best and most effective learning process possible, including the usage of specific pedagogies. The examples here will be projects like Docebo, Motivis, or Totara.
5. Learning management ecosystems
These are even more ambitious projects, combining the best solutions on the market in a single ecosystem to provide specific knowledge to the audience. It is possible to consider Notre Dame's NeXus platform as an example.
6. Custom systems
If none of the above are fitting your situation, custom e-learning platform development comes into play. Let's say you are looking to create an online learning platform for schools with specific sets and approaches for courses and training programs. You need to hire experienced developers in order to reach your vision with the highest standards. Look up the Harvard Business School Online (HBX) to find out what this approach is all about.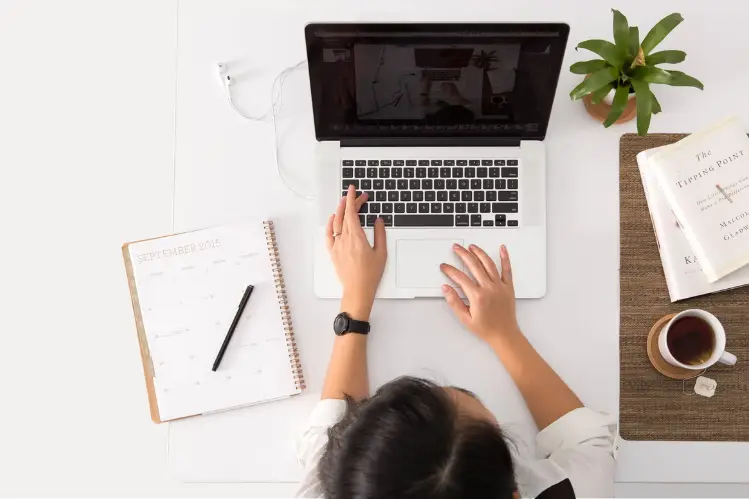 How to develop an e-learning platform: Key features to consider
When you decide to create an online learning platform, it is safe to say that your solution should include the following list of features:
Registration and profile management functionality
Everyone needs to authenticate themselves, including creators, admins, teachers, and students. For this purpose, it is reasonable to start with the registration/login function, which most often uses an email/phone number and password combination. Additionally, nowadays, the ability to sign in via social media accounts is crucial too.
For a student profile, it is important to have features like user information including a profile picture, a list of active and completed courses, information about achievements, purchase history, and settings.
A teacher profile must include an information page and a list of added courses.
Search functionality
When you create an online learning platform, it is safe to assume that it will have a large catalog of courses eventually. To help users navigate through the possible options, you will need an effective search tool. To keep up with the best virtual learning platforms, you will need search functionality that works with keywords, categories, filters, and recommendations.
Dashboard
This feature should provide both students and teachers with insights into their progress and experience with your platform. When you build an online learning platform, it is crucial to keep in mind effective design for students with the number of courses, completion status, number of hours spent, and for teachers, the number of students, ratings, traffic, and potentially financials.
Course page design
Prepare your solution for the inclusion of videos, PDF files, audio files, textbooks, and maybe even chats. For game-based learning platforms, additional coding will be required, in order to match your vision and implement unique features in your project.
At minimum, a course page should include a description, creator info, and a list of topics. It will also be a good idea to add reviews and rating blocks for each course to help students make better informed decisions. Don't forget about a tool that will generate certificates for students after the completion of the course.
Convenient payment model
In case you want to build an online learning platform that is not entirely free to use, you need to think about payment mechanisms. Your system must include essential methods like debit and credit cards, as well as integration of most popular payment systems like PayPal or Stripe.
Course creation and editing page
Your e-learning platform design should offer teachers all the tools that they may require in order to develop engaging programs, including materials in different formats (PDFs, videos, audios) and links to additional resources (such as Wikipedia articles or researches on other websites).
Reminder and notification functionality
Being able to inform the users about the new additions to the platform is an important thing to think about during the virtual learning platform development process. But how to organize this properly and not seem too pushy about the new products? Consider making monthly digest emails and try to include personal recommendations for each individual user.
Admin panel
Last but not least, make sure to include a convenient and effective admin panel that will be able to provide effective user and content management across your solution.
Things you need to do in order to develop an e-learning platform
Research and planning
First and foremost, you have to have a vision for what you are going to create. If you already have an idea of an audience you will focus on, start with a market analysis of similar solutions. After that, consider the age and interests of your target audience. Try to figure out how your solution will be better compared to existing ones. What additional value can your platform offer in order to capture the attention of potential users?
Finding a development partner
As mentioned previously, anyone can enter this market, and even if you don't have any significant tech experience, you can leverage existing solutions to reach your goals. One possible drawback of using canned solutions is the potential of limited functionality, a lack of unique features, and less customization.
If you want to leverage e-learning platform development to the fullest, you should think about a custom solution. To add technical expertise to your project, you have two options: forming an in-house team or partnering up with a qualified vendor. Both approaches have their own advantages and disadvantages, and it's impossible to state which one is better, not knowing the context of a project.
In-House
Outsourcing
Advantages
• Control and visibility
• Talent development
• Cost-efficiency
• Ease of scalability
• Large pool of experts
Disadvantages
• High-cost
• Talent pool is limited by the location
• Lack of direct control
• Possible communication difficulties
• Security risks
If your choice is outsourcing, make sure to find a trusted software development partner with the help of such platforms as Clutch.co, GoodFirms, and IT Firms. Look for a proven track record and positive reviews from previous clients. A good outsourcing company can deal with the challenges of remote work and become an integral part of your organization. Or, you can always ask us for advice!
Creating great content
Your project can become a big success only with useful content. Scout universities, institutes, and educational establishments in order to find qualified tutors to lead your platform and help change the lives of students for the better!
FAQ
What is an e-learning platform?
It is a website or an application, where users can learn new skills online from experienced tutors and qualified professionals.
What is e-learning development?
It is a process of creating educational software, tools, and platforms for online education.
How do you make an e-learning platform?
There are several approaches to it. First, you can do it without any tech expertise using existing templates, builders, and no-code solutions. However, if you want your product to stand out, you need a custom, personalized and unique user experience. In order to achieve that, you will have to hire skilled software developers and choose one of the two ways to develop your product: outsourcing or in-house.
What makes a good e-learning platform?
Great performance on all devices, a selection of skilled educators, the convenience of excellent UI/UX design, and support of all the latest technologies that are necessary for the learning process. Whether it is a micro learning platform, a cooperative learning platform, or a learning platform for schools, the elements that make a solution great are pretty much the same.
What should an online learning platform have?
Any solution in online education that provides courses should include key features such as
Registration and profile management
Search option
Dashboard design
Course page design
Payment gateway integration
Course creation and editing page
Reminders and notifications
Admin panel
This basic list can be expanded, of course, in case of more narrow solutions like game-based learning platforms, industry-specific or corporate exclusive projects, where additional features may be required in order to reach business goals.