When designing a website, the first thing to take into account is one of the most basic: is my website accessible to a variety of users?
Accessible design is defined as a design process in which the needs of people with disabilities are specifically considered (these typically include aesthetic features like font size, button colors and navigation structure).
However, it can also mean taking into consideration the type of device the user is consuming your content from (usability of the site from multiple devices and operating systems).
An Example of Poor Design Accessibility
For instance take the Office of Personnel Management website, owned by the Federal Government, which is meant to serve retired citizens who are looking to understand and collect their benefits.
In the US, the elderly represent the most rapidly growing age group, so there is a good chance that this website has been receiving more traffic in recent years than ever before.
However, the page is designed in a way that makes navigation and usability quite difficult for its target audience.
For example, the font is small, the navigation bar is full of vague offerings that do not intuitively direct traffic, and there is little contrast in the colors on the page.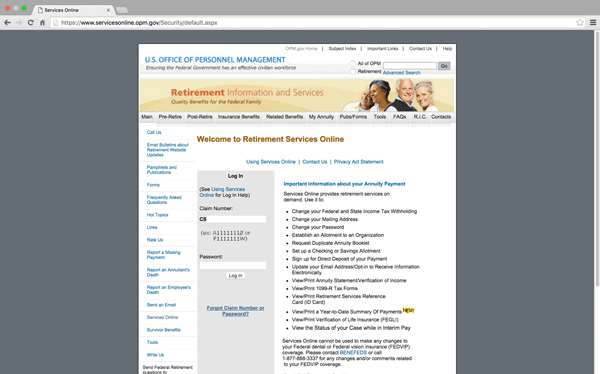 Generally speaking, senior citizens possess fewer technology skills and are more than likely battling poor eyesight and are thus, predisposed to struggle with a page like this.
When taking into account the poor accessibility of the website's aesthetic features and design, it becomes a wonder that users are able to make their way through it at all.
Aesthetic Design Accessibility
There are several design tricks that can be used in order to make pages like this more universally accessible.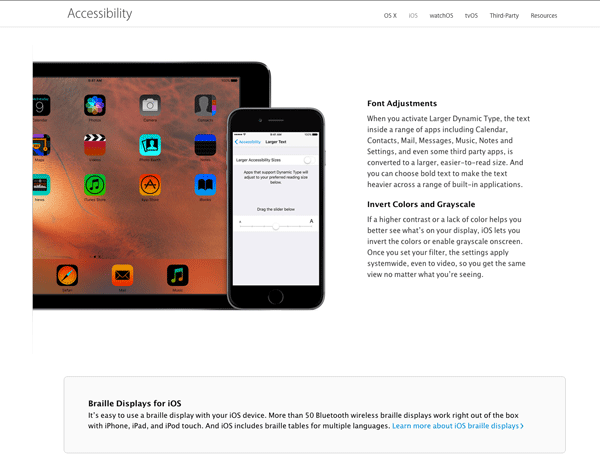 For users who have poor vision, it is imperative to use larger font sizes for the text and to space out the words across the page.
Breaking up large chunks of text from one landing page across different, categorical pages on the website will also help with "de-cluttering" the site and make it easier to find and consume the information.
For colorblind users, sticking to just a few—though contrasting—colors will make the page easier to see and the features more distinguishable (think Google's simple blue, red, yellow and green logo).
Adding video to a page also provides users a different way to access the content.
Not only that, but video can prove to be more demonstrable for subject matters that are not easily conveyed through written text.
Furthermore, providing subtitles for those videos can provide another layer of accessibility for the hearing impaired.
As the Internet has the opportunity to grant access to any individual across the globe, you must be aware of social and cultural factors as well.
A relatively benign example could be failing to provide metric conversions if you are the proprietor of a DIY carpentry website that targets both U.S. and European users.
Device-specific Design Accessibility
It isn't just the aesthetic design itself that plays a role in how accessible a website is for its users.
Because of the increased use and reliability on mobile devices, the way a site or application is accessed by users on these platforms has the potential to either attract or alienate them.
One way that designers have been able to successfully accommodate the mobile user is to either create a mobile app for download, or by creating a website that is responsive in nature.
For example, by taking the screen size, software limitations and scrolling techniques of the user's device into account, content can be presented and consumed the way in which it is intended by the brand or business.
There are also mobile-specific advantages that can be leveraged via apps that are more convenient and "make sense" for the on-the-go user. Once such feature is the phone's vibrate-ability.
In many cases, the vibrate feature can act as an alert (e.g., push notifications letting the user know about road closures and congestion issues for city-based travel apps) for users who either can't hear or need to silence their phones due to their environment.
Additionally, text to speech features are vital for individuals who cannot read the text on their phones, whether due to vision impairment or some other environmental impediment, such as driving.
Usability Testing and Design Accessibility
The fundamental similarity between all of these features is that they are design elements intended to provide the easiest access to a user regardless of any limitations that might stand in their way.
This is vital for anyone who wishes to increase both the traffic and the overall user experience of their website or application.
When it comes to actually implementing a new design strategy to increase accessibility, it is important to begin by thinking of all the impediments users might face when it comes to how they interact with your designs.
One way to get a good sense how your website or app is performing, is to conduct usability tests for your existing designs.
If you can, conduct these tests with users who may demonstrate some of the aforementioned impairments or dependencies —disabilities, cultural considerations and mobile devices —to truly see what works, what doesn't and what you may be missing.