Our UX team recently conducted a 3-day Discovery Workshop for a client in the healthcare industry. Their company was using an analog process for their clients' paperwork; thus, we were tasked with finding a way to incorporate new technologies and improve the digital user experience.
Another challenge was to find a solution to their current portal design, which had been incrementally updated through the years. Due to the ad hoc nature of these past updates, the portal hadn't been reviewed as a system in its entirety. This was an important focus for us as incremental updates through the years can break or disturb other services, stakeholders or processes within system.
Often businesses know there's an issue, but can't quite pinpoint where it is coming from or which pieces play a part in it. Our role in the Discovery Workshop is to help them either redefine the problem or discover new ones, and present a fix that they may not have considered without the proper analysis.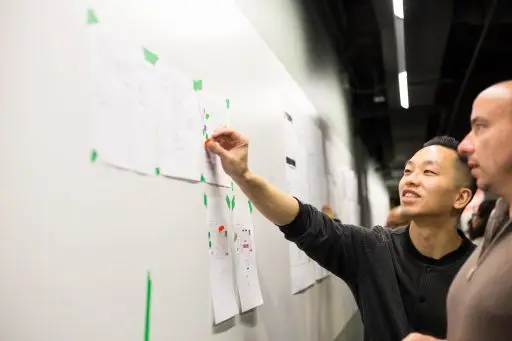 Research & Discovery

The Discovery Phase is the first step in the UX process and where foundational user research occurs. The goal during this phase is to learn as much as possible about your client's business, objectives, users and competitors.
Activities during this phase can include (but are not limited to):
Stakeholder Interviews
Focus Groups
Heuristic Evaluations
Card Sorting
Surveys
Personas
User Journeys
Analytics
Task Analysis
Ideation Workshop
Goals of our 3-day Discovery Workshop:
Identify users & their journey
Determine the business/user needs
Uncover pain points
Bring together stakeholders
Define the project scope
Align business goals with the solutions presented
For this process, we incorporated some of Google Venture's Design Sprint approach. A sprint can help shortcut the endless debate cycle across teams, which tends to be necessary in order to stay on track since our 3 Day Discovery Phase is done in such a short period of time. Keeping the discussions succinct and purposeful made this phase of the workshop more effective in that it provided us a solid framework to work from, kept us on task, and thus was enjoyable for everyone involved.
Starting with Data
After we aligned on the business goals, our team performed both quantitative and qualitative research on our client and their product. This is what we call a UX Analysis- in this case, we analyzed the customer's website. We started by assessing customer surveys and chat logs, which gave insight into the Voice of Customer (VOC)- meaning their goals, expectations and frustrations.
To fill in the gaps we felt were missing, we also interviewed customer service representatives to help with the VOC. This further exposed the challenges faced by customers using the portal, as well as by the client's internal teams. This data allowed us to review not only the User Experience, but also the Employee Experience to create a better overall Customer Experience.
By applying user behavior monitoring software to their portal and conducting a deep dive into Google Analytics, we were able to see where users were dropping off most frequently and which pages had the lowest traffic. A task analysis also revealed user flows, user goals and pain points in navigating the portal.
These findings gave us direction for the key parts of the portal to focus on, including information architecture and discoverability. All of the combined research helped us to prioritize our focus for the 3-day Discovery Workshop.
Measuring Your Audience
We invited eight stakeholders from our client's business to participate in the workshop. To make a sprint workshop successful, it's important to have a mix of people – from key people who directly work with the product like Software Engineers, Developers  & Customer Service Leads, to experts who have specific domain knowledge, like their Business Analysts and CTO.
From our team, we had two UX Designers to co-facilitate the workshop, a User Experience Researcher, a Director of Business Development and a Project Manager who kept track of time and took notes/photos.
We had a core team of participants who attended each day and others that came just for the exercises where their participation was most important.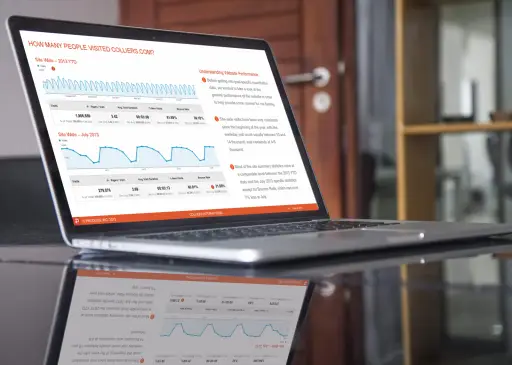 Design Thinking Workshop Summary
Uncover the Vision – Day 1
The goal of Day 1 was to set the long-term business goal, detect problem areas that could be addressed in the exercises, understand the customer journey (including their goals and frustrations) and lastly, to gain knowledge from internal experts in order to help guide us to the right focus areas.
Schedule:
Icebreakers
Set the Long-term Goal

We asked the group questions like: Why do we have client portal? What problems does it solve today? What is the vision for the future? How will we measure success?

Open Questions

What questions do we hope to answer together in the next few days?

Customer Map

We created a map of customer touch points, actions, and users. We focused on flows that were integral to user's success and happiness within the portal. This helped us understand their goals and how they felt along each step of the way.

Ask the Experts

Quick 5 minutes "what we know" and Q&A of each expert representative, one at a time. Questions such as: What will make this project successful?, What's our unique advantage or opportunity?, What's the biggest risk?

Introduction to How Might We (HMW) Notes

Each person in the sprint wrote their own notes one at a time on a Post-It in the form of a question "How Might We…?" For example, one person asked "How might we simplify notifications dev effort?"

Review and Wrap Up
Brainstorming Solutions – Day 2
The goal of Day 2 was to explore inspiring examples of products and services, sketch solutions, and present and vote on solutions to inform the focus areas for priority in Day 3.
Demo Examples
Research for Lightning Demos

Everyone was asked to come with a list of products or services to review that they think serve as an inspiring solution to the problems discussed on Day 1 (we often ask them to think outside of industry). Each person had 20 minutes to research.

For example, a solution to their privacy/permissions was to review Facebook and how they handle with their users.
Another example was to explore Paychex's user interface for dashboard tiles and style ideas.

Lightning Demos (3-minutes each)

Participants shared with the team what was cool about their found solutions. What was the big idea? What might be useful? Our team recorded each solution/demo on the whiteboard so we could review after all demos were completed.
Sketching Solutions
Groups / Targets

Each group chose a focus area while looking at the HMW themes or sections of the customer journey map to be improved. Some of the sketch concepts that we wanted to target included: notifications, invite/add member modal and user profile dashboard.

Heat Map

After the presentation, everyone was given five stickers. They walked around and placed stickers on any solution they felt was most interesting or impactful to them, with the option to note questions on any focus area they were unsure of.

Review and Wrap Up

The team then reviewed "hot spot" areas (those with the most stickers) which introduced us to the theme for the final day of the workshop.
Prioritizing Tasks – Day 3 
The goals of Day 3 were to determine and prioritize the impact vs. effort of the solutions presented, storyboard those solutions in order to expose any gaps we were missing, and to review and revise the open questions from Day 1.
Impact vs. Effort

As a team we prioritized the solutions on a grid of low to high impact vs. low to high effort. We reminded the team that the feature Impact should always be related back to the high level mission and success metrics the business focuses on.
The team then voted on Impact vs. Effort on a scale of 1-5 (5 =High and 1= Low). With devs in the room for this exercise, they were able to give input and help us scope the effort each solution would take.

Storyboard

A grid was then drawn on the board with the customer touch points that we uncovered in our initial research and created the customer journey map from.

Storyboard Input

Team members took notes on index cards as the storyboard flows were described. Each person then shared his or her notes and placed them on the related sections of the storyboard.
Examples: "The landing page should address pain points uncovered in V1" and " Global navigation should include our general library."

Review Open Questions

To close the workshop, we reviewed any open questions that were outlined at the beginning of the workshop.
Did they get answered in this session? What else do we need to do to answer them and who owns the process? Do our solutions point to the vision? Do we need to add or change anything? Are any solutions missing?
This allowed the team to revisit and assign responsibility for addressing these issues. Example: How do we address both the power user and new users?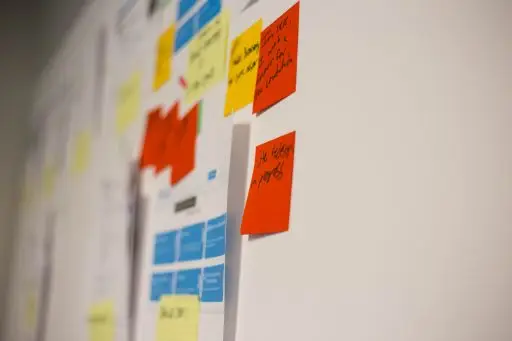 Conclusion
The workshop was very successful. Everyone had fun, gained insight into the benefits of a Discovery Workshop and came to understand the importance of including stakeholders from different teams to participate. By digging deep and asking the right questions, we were able to provide recommendations that will positively impact business expectations and aide in the decision-making process, as well as improve the user experience.